AERZEN compressor station in use for research
Mechanical Engineering Campus of Hanover University Inaugurated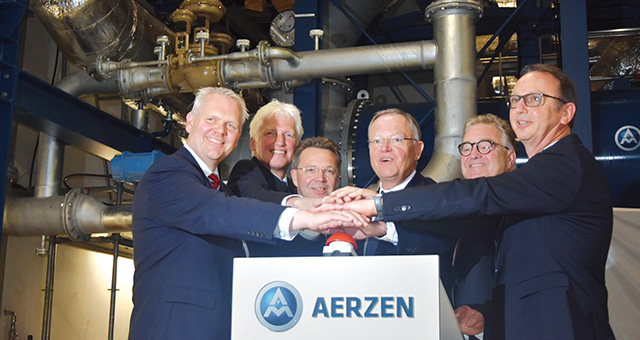 Inauguration in Garbsen (from left): Lower Saxony Minister of Science and Culture Björn Thümler, Mayor of Garbsen Dr. Christian Grahl, President of Leibniz Universität Hannover Prof. Dr. Volker Epping, Minister President of Lower Saxony Stephan Weil, President of the Hannover Region Hauke Jagau, Dean of the Faculty of Mechanical Engineering Prof. Dr.-Ing. Jörg Wallaschek (Image source: Aerzener Maschinenfabrik GmbH)
The starting signal was given on 19 September 2019 with the opening ceremony of the ultra-modern mechanical engineering campus in Garbsen: Leibniz Universität Hannover can conduct practical research on thermal turbomachinery, which is used in aircraft engines and power plant turbines, for example, and can undertake research into the "Dynamics of Energy Conversion (DEW)." The AERZEN compressor station plays a central role here.
The AERZEN compressor station in Garbsen is responsible for the dynamic drive of turbomachinery and power plant test benches. Two large blowers type GM 20.20 and two screw compressors type VRa 736S, including measurement and control technology, form the system. "The uniqueness of the set-up lies in the fact that the test benches operate dynamically with almost freely selectable load ramps and are thus able to map the actual operation of existing and future turbomachinery much better," according to a DEW press release.
"The air must have specific properties, depending on different tests. To achieve this, pressure, temperature and volume flow must be set independently of one another on the selectable test benches - otherwise the tests will not be carried out successfully," explains Pierre Noack, Head of Supply Process Gas.
With a total drive power of 8,000 KW, this multi-year project is one of the lar-gest German orders in the history of AERZEN. "For us, it is definitely a special project - not only because of the volume, but also because of the physical size: large machines with which we can deliver high performance, yet with the minimum tolerances we have to comply with - the whole project is huge," says Noack.
AERZEN won the order in 2016. In a hall of Aerzener Maschinenfabrik a scaled-down and simplified, but fully functional, model of the compressor station was built. Among other things, it is used to test control and regulation technology, evaluate corresponding methods and to investigate operating behaviour before actual commissioning.