ACHEMA News 2003 – Part 2
In part two of this series impeller.net informs about the most important ACHEMA news in the areas of plastic-lined centrifugal pumps, API pumps, slurry and solids handling pumps, hygienic pumps as well as pump controlling and monitoring.
Plastic-lined Centrifugal Pumps
Friatec's RNP-standardized chemical pumps with ETFE-lining are setting new standards in the technology of plastic lined pumps, with deliveries up to 1600 m³/h and delivery heads up to 70 m. The thick walled, diffusion-proof ETFE-lining of the casing components comes with an optimised hydraulic design for maximum efficiency. With that pump type the manufacturer wants to provide a cost-effective alternative to metallic pumps.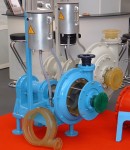 Habermann, manufacturer of armoured pumps, presents the HPK series with elastic lining by the polyurethane material HAWIFLEX. It is preferably used with abrasive/corrosive media having a maximum grain size of 5 mm and a maximum temperature of 130 °C.
API-Pumps
Flowserve has developed an energy saving alternative to multi-stage or high speed geared pumps for pumping of fluids to high pressure in petrochemical processes. A single stage pump, directly coupled to an AC motor, driven by a variable frequency drive. Operating speeds up to 8000 rpm, this pump develops a differential head of 600 m as a single stage and 900 m as a two stage version. Changes of the process will be achieved by changing the speed instead of using a throttling valve.
The API process pumps of the Hermetic series CNP have been developed in cooperation with Sulzer. The canned motor pumps in accordance with API 685 are planned for heavy duty usage in petrochemical refineries.
The centrifugal pump series NP8 of Bombas Itur is designed according to API 610 heavy duty in centreline layout. The pumps are available with closed or semi-open impeller. Through the application of an inducer low NPSH values can be provided. The process design allows to remove the rotor without removing neither the pump casing nor the motor (back pull-out).
The knowledge of Ruhrpumpen in the refinery service combined with many years of experience in calculation and design of complete hydraulic decoking systems as well as revamps of existing systems gives the basis for the Ruhrpumpen Hydraulic Decoking System. The heart piece is a high pressure barrel pump, designed for pumping cutting water up to 320 bar and a flow up to 350 m³/h. The pump and the lube oil system are designed according to API 610.
With focus on the hydrocarbon processing industries Sulzer Pumps presents the new OH family of API 610 process pumps. Designed to meet or exceed the requirements of the latest 9th edition of API 610, the family consists of 3 models using the same basic OH hydraulics. The OHH is a conventional single stage overhung process pump. The OHM is coupled with a seal less magnetic drive assembly and it complies with API 685. Finally, the OHC is equipped with a canned electric motor drive. This unique range of process pumps provides an optimal sealing solution for all process applications.
Solids and Slurry Handling Pumps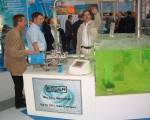 The EGGER solids handling pumps EO/EOS allow the transport of suspensions and liquids with long fibres. The fluids may have an air-content up to 30%, whereby a curve correction is not necessary up to 20%.The impeller with a large free passage, the high efficiency and the low NPSH are further advantages. The products can be used in a wide range of industrial applications, for example in steel, automobile, sugar and paper industries as well as in chemical processes or wastewater treatment.
ITT Flygt has launched the next generation of submersible slurry pumps. The 5100 and 5150 models have been designed to handle abrasive slurries in industrial environments such as mining and mineral processing, power generation and steel sectors. They range in size from 7.5 kW (10hp) - 85 kW (105hp). Latest motor technology and toughest materials, in combination with smart protection features, such as the inspection chamber, Spin-outTM and pressure isolation zone, ensure an unbeatable level of reliability. A design requiring fewer parts and therefore lower maintenance costs make this the most cost-effective submersible slurry pumps on the market.
Weir Minerals presents the new Warman MU unlined slurry pump. Designed to meet the requirements of the slurry, liquor and process applications, where the use of the world renowned AH ultra heavy duty slurry pump may not be justified, the Warman MU medium duty slurry pump provides features such as abrasion resistance, rugged construction, simple installation and maintenance and lower weight. Lower power consumption and lower cost combined with the extended wear life and reliability bringing the customer lowest life cycle costs.
Hygienic Pumps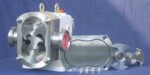 Allweiler extended its offer with two new series for the chemical industry as well as the food- and cosmetics production. The two new centrifugal pumps of the ALLCHEM series are marked by an especially favourable price/performance ratio and a delivery within a few days after ordering. The new rotary lobe pump ALLCLEAN does not only make "cleaning in place" but also "steaming in place" possible and is therefore ideal for the food and cosmetics field.
Crane Flow presents the SSP rotary lobe pumps. The S series was designed for the chemical, pharmaceutical and the food-processing industries. Above all, they transport high-viscose mediums such as emulsions, sensitive cells, gassy mixtures and organic solids in suspensions (maximum capacity 106 m³/h). Depending on its range, the S series can be equipped with various seals of different materials and designs.
Hilge, specialist for stainless steel centrifugal pumps, introduces the Contra II series built according to the Qualified Hygienic Design. It extends the application of the Contra I up to a maximum flow of 55 m³/h and maximum head of 170 m. The complete performance range of multistage centrifugal pumps for high and highest hygienic applications is covered now. Besides the typical bloc design there is also a bearing frame version available. IEC standard motors or NEMA motors can be connected easily by means of standard coupling, either directly or via an intermediate adapter flange. The vertical version is fully drainable through suction port.
ITT Jabsco launches brand new additions to their Hy~Line stainless steel rotary lobe pump range. The new '7-Size' Hy~Line models, LH720, 740 and 760 are specifically designed for applications where higher flow rates up to 1800 litres per minute are required. Pressures from 5 to 15 bar can be achieved with working temperatures up to 150 ºC. These models confirm to US FDA/3A construction requirements but are certified to EHEDG standards, providing an exceptional level of cleanability, hygiene and sterilisability.
The compact design gives the new gear pump series of PCM Pompe the name. The "Compact" is suitable for applications in the cosmetic and food processing industries.
The new centrifugal pump series TP for lower flow rates completes the well-known Tuchenhagen covering the lower capacity ranges with a flow range of up to 40 m3/h. Like the KN series, the TP series is characterized by gentle product handling, optimum efficiency and easy maintenance. The centrifugal pump type TP is designed for the hygienic pumping of biologically demanding media up to a viscosity of 500 mPas.
Pump Control and Monitoring
Due to the simultaneous monitoring of four important parameters, Crane Flow considers the newly developed early-warning system for ELRO-hose pumps of the IP series a clearly more efficient solution compared to other systems available on the market. The underpressure and the casing temperature, the delivery pressure of the medium as well as the conductivity of the pumped medium / lubricant are monitored and measured. This warns the user in time before a critical operating condition or failure can occur.
PumpSmart products by Goulds Pumps are easy to use pump control units with safety and logic. The series reaches from controls mountable to the motor to a powerful control unit for several pumps up to 520 kW. The speed control device saves up to 70% energy cost and bearings and seals are protected. This in return elevates the working life of the pump components and reduces the downtime as well as maintenance.
The new generation by PumpExpert by KSB is an intelligent diagnostic system for centrifugal pumps of various types, independent from the manufacturer. It provides the user with alarm and warning messages as soon as a operational erro occurs and recommends a clear course of action. This increases system availability and reliability and prevents costly downtimes. Extensive communication interfaces complete this product. On-site indicators via infrared interfaces or via field bus can be used.