ACHEMA 2003 – World Forum for the Process Industries
The 27th ACHEMA will take place in Frankfurt am Main from 19 – 24 May 2003. This International Exhibition-Congress on Chemical Engineering, Environmental Protection and Biotechnology is the world's leading event for all branches of the process industries.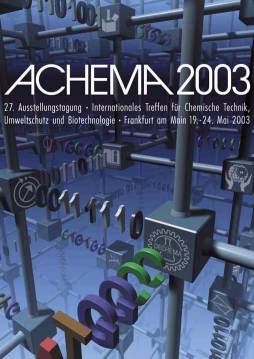 Nowhere else can experts and decision-makers find a comparable concentration of specific equipment, technologies and solutions for the chemical and petrochemical industries, the pharmaceutical and foodstuffs industries and related sectors. No other event for the process industries is endowed with anything approaching its seminal expertise. It is once again anticipated that ACHEMA 2003 will make a worldwide impact and act as a trail-blazer to the future for the process industries.
Around 4,000 exhibitors and more than 200,000 visitors from all over the world are expected at ACHEMA 2003. Although the economic outlook worldwide is not too optimistic ACHEMA has lost none of its attraction. To date as much as 94% of the net exhibition space of ACHEMA 2000 – which was 145.000 square metres – have already been spoken for. Currently the highest demand for space is in the exhibition groups Pumps, Compressors, Valves and Fittings, Laboratory and Analysis Techniques, Pharmaceutical, Packaging and Storage Techniques, Mechanical and Thermal Processes, and Instrumentation, Control and Automation Techniques. However, the expanded Frankfurt exhibition grounds offer excellent potential for new exhibitors to participate.
New hall structure and enhanced visitor-friendliness at ACHEMA 2003
With the new Hall 3 and the new Forum the exhibition grounds have not only expanded quantitatively, but have been significantly upgraded qualitatively in time for ACHEMA 2003. This necessitated a restructuring of the exhibition groups and created a welcome opportunity to bring related exhibition groups closer together; this, in turn, will enhance visitor-friendliness. Moreover the new hall configuration provides leeway for expansion for all the exhibition groups. - From January 2003 an excellent tool for online preparation of a visit to ACHEMA will be available: the ACHEMA homepage with the Internet catalogue at www.achema.de and, from March 2003, the 9th edition of the CD-ROM "WOICE of ACHEMA" (World Catalogue of Chemical Equipment).
The exhibition groups – the thematic focal points of ACHEMA 2003
Research and Innovation (Hall 1.2)
Literature, Information, Learning and Teaching Aids (Hall 1.2)
Laboratory and Analytical Techniques (Halls 5.1, 6.1, 6.2, 6.3)
Engineering (Halls 9.1, 9.2, Outdoor Area F1)
Mechanical Processes (Halls 4.2, 5.0, 6.0, Outdoor Area F1)
Thermal Processes (Hall 4.0, 4.1, 4.2, Outdoor Area F1)
Pumps, Compressors, Valves and Fittings (Halls 8.0, 9.0, 9.1)
Pharmaceutical, Packaging and Storage Techniques (Hall 3.0, 3.1, Outdoor Area F1)
Industrial and Labour Safety (Hall 4.1)
Instrumentation, Control and Automation Techniques (Hall 10.0, 10.1, 10.2)
Materials Technology and Testing (Hall 3.0, 3.1)
Biotechnology (Forum Fo 0, Fo 1)
ACHEMA Special Show: e-Services for the Process Industries
Environmental protection and biotechnological equipment are, by tradition, general topics at ACHEMA. With over 1,500 exhibitors from the field of environmental protection and over 1,200 exhibitors representing biotechnological equipment ACHEMA has clearly rocketed to become the world's most comprehensive event for product and production-integrated environmental protection and for equipment, processes and services in the biotechnology sector.
Biotechnology Exhibition and Conference – a central theme at ACHEMA 2003
For decades biotechnology and biotechnological equipment have ranked among the cornerstones of ACHEMA. Over 1,200 exhibitors will present the world's most comprehensive spectrum of equipment for biotechnology together with biotechnological products, processes and services. Biotechnology is becoming increasingly intertwined with the conventional disciplines of the process industries, be it DNA chip production, large-scale cultivation of cells or the development and production of pharmaceuticals. Close to 25% of all visitors to ACHEMA 2000 expressed their interest in biotechnology.
In order to cater for the growing importance of this field, biotechnology has its own individual exhibition group. At ACHEMA 2003 this will be complemented by a world-class Biotechnology Conference. These two features have pride of place in the most attractive exhibition hall on the Frankfurt exhibition grounds: the new Forum. In 10 plenary lectures and over 100 other lectures by distinguished international experts, including several Nobel prize winners, just about every topic that affects the biotech community is represented. The spectrum ranges from targets and drugs, protein design and production, tissue engineering, systems biology, structural genomics, computer-aided drug discovery, pharming, stem cells, bioprocess engineering to legal aspects, financing and intellectual property rights. Daily panel discussions will cover the commercial aspects of biotechnology.
Environmental protection – integrated and prospective trends
Equipment, plant, processes and services for all fields of environmental technology have long since been a standard feature of ACHEMA. In excess of 1,500 exhibitors will present the latest processes and services. The exhibition and congress programmes will reflect trends and developments in this sector. Some representative themes of the congress are: Green and sustainable chemistry, Sustainable water management, Water quality control, New sensors for environment and industrial water systems, Adsorption technologies for waste gases, Airborne particles, Eco-efficient waste management and Material and energy flow analysis.
Integrated environmental protection has been one of the hallmarks of ACHEMA for several decades. The current environmental policy of the European Union has given new impetus to the development of integrated solutions and of efficient cleaning techniques for environmental protection. Best Available Technologies (BAT), eco-efficiency und green chemistry are the new buzz words. The overall assessment of emissions, the recovery of resources, and costs is increasingly becoming the criterion for investment decisions
The ACHEMA Congress, panel discussions, study courses and special events offer a diverse spectrum for information, discussions and contacts
The print version of the ACHEMA Programme 2003, comprising the Congress programme with over 800 lectures and all the essential information on ACHEMA, will be available at the end of January 2003. An edition of 600,000 copies comes in German, English and French. Furthermore constantly updated information will also be accessible on the Internet (www.achema.de).
The topics of the congress are oriented on the exhibition groups, supplemented by "hot" themes focusing on new developments (e.g. Chemical nanotechnology, Fine and speciality Chemicals, Particle technology, Green and sustainable chemistry, Food technology, Supply chain management, Water technologies, Material and energy flow analysis, Management of Chemistry Parks, Fuel cell plants, etc. Seven plenary lectures, numerous overview lectures, four panel discussions, two "ACHEMA worldwide business forums" (related to Latin America, including Mexico, and China) are the highlights of the ACHEMA congress programme.
New: the ACHEMA Recruitment Forum
It is becoming increasingly difficult to find qualified, specialised employees, let alone on an international scale. For the first time, therefore, with the newly created ACHEMA Recruitment Forum DECHEMA offers all exhibitors and job-hunters a new platform for customized contacts. From 31 March 2003 onwards, situations vacant and wanted can be submitted at no charge via www.achema.de/recruitmentforum or, during the event, at the Galleria information desk. The Recruitment Forum will be accessible online until 31 July 2003. Individual contacts to exhibiting companies can be made by e-mail or on the spot at ACHEMA.