ABS pumps are rented for the extension of Madrid airport
Madrid-Barajas Airport is the fifth busiest European airfield today and the one with the highest increase in passenger traffic over the last years. To cope with this continous upward trend, the airport is now being extended. ABS pumps are used during the construction of new terminal buildings and runways.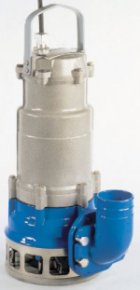 (Source: ABS)
An investment of more than 4,200 MEUR will guarantee that Madrid-Barajas airport can serve up to 70 million travellers per year in 2004. The extension of the airport is to be concluded in the summer of 2004, and this mammoth construction work employs around 4,000 people.
60 JUMBO® contractor pumps are rented from ABS for use during the construction of the new terminal building and for the construction of the new runways, as well as in the building of the parking and access areas. These powerful submersible contractor pumps are especially designed for draining abrasive water from construction sites and other tough environments.
This order is further proof that customers are attracted by the flexibility, reliability and immediate availability that comes with pump rental.