ABS Launches Basic Pump Controller BPC
ABS introduces the basic pump controller BPC. It is a low cost pump controller for one or two pumps up to 3 k W, in single or three phase.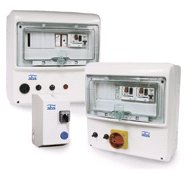 The units are suitable for use with pumps with or without Di seal monitor and external temperature limiter connection, and can be used with a wide range of pumps from the ABS product range.
Key benefits of BPC include:
Hand-Off – Auto switch
Current overload with reset
Level control by float switch or submerged air tube
Normally Open contact for voltage free fault signal capability.