ABB Launches High Power Pump Motor With Advanced Rotor Design
ABB, the leading power and automation technology group, has introduced a new 2-pole motor to complete its high voltage modular induction range.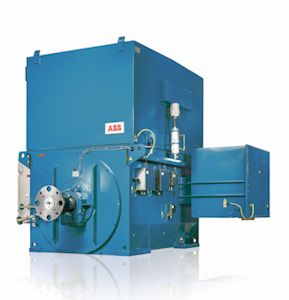 Modular high voltage 2-pole induction motor (Image: ABB)
With the new motor the range extends from IEC frame size 400 to 800, therefore covering all general high voltage needs in today's markets.
"We developed this new product following requests from customers for a high power 2-pole motor," says Ms. Karita Forss of ABB's high voltage induction motor product management. "It is especially suitable for driving water injection pumps on FPSOs (floating production, storage and offloading units) and main oil pipeline pumps, as well as other applications in chemical, oil & gas installations, water and wastewater treatment plants."
There are tough challenges to overcome when designing high voltage, high power motors, particularly with regard to cooling and stresses. ABB's engineering team used FEM (finite element method) analysis to optimize air flows, and improved the ventilation for effective cooling. A new rotor bar construction was designed to ensure that the rotor will withstand all the stresses arising during start-up and running. The shaft is solid to provide the necessary rigidity.
The new motor can be operated with supplies from 6 kilovolts (kV) to 13.8 kV. It is initially targeted at fixed speed applications up to 3,000 rpm with DOL (Direct on Line) connection. VSD (variable speed drive) operation is possible, but the speed range is fixed on a case-by-case basis for each application. The motor is designed for horizontal mounting and is equipped with sleeve bearings. For use in explosive atmospheres, the available protection types are non-sparking (Ex n) and pressurized (Ex p).
With its low vibration levels, robust construction, low maintenance requirements and excellent reliability, the new motor provides a very low overall cost of ownership. ABB high voltage induction motors are perfectly engineered according to each individual customer requirement and application. Their high efficiency, together with a range of ventilation technologies, results in considerable energy savings over the life of the motor.