A Unique Book Launched As Definitive Guide To Pool Water Chemistry
A new book is now available that is a unique reference tool for pool plant operatives, trainers, consultants, technical and maintenance engineers as well as industry students.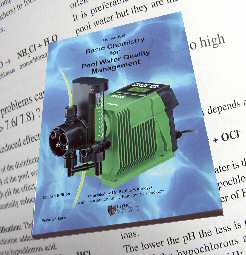 Alldos: Basic Chemistry for Pool Water Quality Management
Introduced in the UK by Gaffey Technical Services Ltd & ALLDOS Ltd, A Grundfos Company, Basic Chemistry for Pool Water Quality Management provides a wealth of information on the chemistry, chemicals and processes used in modern pool water treatment.
As well as an introduction to disinfection chemistry, the book covers information about the issues of pH and redox, disinfection methods, coagulation and corrosion, It also includes question and answer exercises throughout so readers can test and develop their knowledge.
Andrew Gaffey, sales director at Gaffey Technical Services Ltd comments, "We discovered the book in Germany, where it is widely used by students and operatives. As we didn't have anything as concise as this in the UK, we worked with Tosh Singh, Managing Director at Alldos Ltd to have the book translated, updated and published in English."
Andrew continues: "I'm sure anyone involved in swimming pool operation at any level will find it very useful - especially those who specify pH/disinfection and dosing methods, and evaluate their suitability with different supply water characteristics.
"At the moment, operatives and engineers tend to get limited teaching on chemistry, yet it is very important in pool water maintenance. Significant damage or maintenance costs may result in pools where water quality is not understood and controlled.
"The new book will provide valuable information to help avoid the pitfalls that lead to poor water quality control, incorrect selection of chemicals and the corrosive damage that can occur to the pool building and plant."
Basic Chemistry for Pool Water Quality Management is available from
ALLDOS Ltd, priced £18
For details phone ALLDOS Ltd on 0121 328 3336 or Email : tosh@alldos.com
Gaffey Technical Services Ltd, priced £18.
For details, phone Gaffey Technical Services Ltd on 01706 226581, email info@gaffey.co.uk or visit www.gaffey.co.uk