A Route to Purchasing New and Better Pumps
There has been an explosion of online pump knowledge. For example, with the impeller.net search engine one can enter a pump type or industry and view many feature articles and news stories. The challenge is to leverage this knowledge resource into what could be called an Industrial Internet of Pump Wisdom.

VSX is converting knowledge to wisdom in its pump selection software. This structured approach starts with identifying important parameters. The identification of cost of ownership aspects of alternative pump choices is similar.
What needs to be extracted from the online knowledge is the specific pump features which reduce cost of ownership. The food industry has been selected as an example. To be valuable insights on lower total cost of ownership need to be provided for thousands of niches. McIlvaine divides the food industry into ten major segments and hundreds of sub segments based on product. For each product there are multiple processes.
They include generic processes such as filtration and evaporation but also specific processes such as homogenization where pumps help create the product and not just move it. The production of peanut butter, sauces, salad dressings, mayonnaise, fruit juice concentrates, baby foods, and milk, involve homogenization.
There is debate over the best type of pump for homogenization. One argument is that homogenizers with reciprocating diaphragm pumps do not need an external safety valve as all plunger pump type homogenizers need to install. This means less risk!

Using the impeller.net search engine the following was extracted.
Watson-Marlow Fluid Technology Group
The Certa 800, is designed to offer enhanced food product quality through gentle handling. The low shear product transfer reduces the number of fines within the curds and whey of the cheese, by more than 20%, while retaining the fat. This results in a significant improvement in the cheese plant's manufacturing capabilities, and ROI of less than 18 months.
Reduction in shear cuts power consumption by up to 50% with high-viscosity fluids. The amount of water/cleaning agents consumed are also reduced.
The sinusoidal movement keeps the pump cleaner than would lobe or circumferential piston motion. Unlike traditional pumps with rotors that cut through the food, the sinusoidal rotor gently handles soft solids without damaging the ingredients.
TCO Advantages
improved quality
reduced fines
less energy consumption
less maintenance
less product loss
higher production
https://impeller.net/magazin/new-sine-pump-to-enhance-food-product-quality/.

Grundfos
Danish Crown is a globally active food processing company. To fully leverage the benefits of digitalization and in particular prevent costly production downtimes, the company relies on close cooperation with Siemens and Grundfos.
The project involved the use of condition monitoring with subsequent data analysis, marking a first for the food & beverage industry. Key components of the solution include cloud-capable low-voltage motors and the open cloud platform MindSphere from Siemens, alongside pumps and sensors from Grundfos. Linking the systems in operation at Danish Crown to the cloud has enabled simpler maintenance and lower servicing costs, ultimately resulting in improved productivity.
TCO Advantages
lower maintenance
improved productivity
https://impeller.net/magazin/cloud-capable-pumps-and-motors-digitalization-pilot-project-in-the-food-industry/.
Lewa
Since high-pressure homogenization may not re-contaminate food products after thermal treatment, it must be ensured that all components being used have a hygienic or – even better – aseptic design, material selection and integration. To date, packed plunger pumps have primarily been relied upon as the type of pump technology installed in these applications.
However, in terms of aseptic production safety, using these pumps is only the second-best choice. Despite a design that accounts for plunger packing components with sterile barriers and flushing systems, there is a risk of recontamination after in-process CIP/SIP cleaning. The thermal load results in increased wear on the plunger and its sealing system. The consequence is a significantly reduced service life, especially when the food product being treated contains abrasive ingredients.
One alternative is to use process diaphragm pumps. They feature a hermetically tight liquid end, which is hermetically separated from the hydraulic chamber and process environment by a diaphragm. This prevents the inside of the fluid chamber from becoming contaminated, ruling out any contamination of the process space—including the food product.
The diaphragm pump can be viewed as a successful evolution of the packed plunger pump. The pump is set apart thanks to its low amount of wear and thanks to flow rates that are nearly independent of the discharge pressure.
TCO Advantages
less contamination risk because of hermetical tight liquid end
shorter unproductive cleaning process steps (CIP/SIP)
lower maintenance & downtime for repair
longer life
higher pump efficiency
https://impeller.net/magazin/hermetically-tight-design-aseptic-diaphragm-pump-technology-ensures-maximum-production-safety-in-food-industries/
Gebr. Becker is expanding its range of rotary vane vacuum pumps. These pumps have been specially developed for applications in the food packaging industry.
The extremely compact design of the new vacuum pumps is one of their design features.
This opens up the possibility for manufacturers, especially of tabletop packaging machines, to build machines with smaller dimensions and to achieve better ergonomics. The almost identical dimensions also allow a modular machine setup: All three pumps can be optionally integrated in the same machine. This gives the machine builder flexibility and also gives the user additional options when selecting the machine.
TCO Advantages
lower assembly costs
less space requirement
https://impeller.net/magazin/new-becker-o5-rotary-vane-vacuum-pumps-for-food-packaging/
Leybold
The newly developed, 100 percent oil-free screw vacuum pump NOVADRY ensures significantly greater safety and efficiency in food and packaging processes.
The demands placed by manufacturers and consumers on the quality, shelf life and resource efficiency of food and packaging processes are constantly increasing. This applies even more to such perishable products as for example meat or fish. Vacuum is considered as an enabling technology, contributing significantly to optimizing these processes. Therefore, Leybold developed the innovative NOVADRY, a new 100 percent oil-free, air-cooled pump.
Meat processing and packaging usually cannot tolerate vacuum pumps emitting oil. That is why Leybold designed a 100 percent dry pump, oil-free pump. There is neither oil in the compression room, nor is there any need for gear-box or bearing oil.
The NOVADRY is air-cooled. This reduces operating costs by simplifying the installation and commissioning. The total life cycle operational costs of the NOVADRY are lower than for oil-sealed vacuum pumps, this was a key driver during the pump development.
Due to its sturdy screw-type pump mechanism, the NOVADRY provides a unique process robustness. It excels especially in demanding processing applications as tumbling or juice degassing where it even outperforms operation cost intensive water-ring pumps.
Also for MAP processes with Oxygen, the user can use the standard NOVADRY where otherwise he must use an expensive PFPE-sealed rotary vane pump.
TCO Advantages
Avoid oil contamination of food and pump environment
lower operational costs
minimized maintenance
greater robustness, safety and efficiency
https://impeller.net/magazin/leybold-presents-a-new-oil-free-screw-type-vacuum-pump-for-food-processing-and-packaging/
These TCO advantages are just the starting point in validating which product will have the lowest total cost of ownership. But they do provide the basis for discussions, debates, white papers and ultimately a highly valuable Industrial Internet of Pump Wisdom.
In the past the leader with many successful installations could use his large market share to validate his equipment. The argument has been if all these users are finding it the best so will a new purchaser.
In the new environment purchasers want accurate cost of ownership evaluations for new and better options.
The media, suppliers, and associations are providing instant access to the latest information. In effect this is an Industrial Internet of Wisdom (IIoW) which allows the user to determine which product has the lowest total cost of ownership.
What is being created is an Innovation-TCO-Profitability Causation Loop consisting of
New and better design
Lower total cost of ownership (TCO) due to the innovation
Industrial Internet of Wisdom (IIoW) communication
Lowest Total Cost of Ownership Validation (LTCOV)
Increased market share(1)
Increased profit margin and total profits
Funds to invest in R&D for new design

Innovation-TCO-Profitability Causation Loop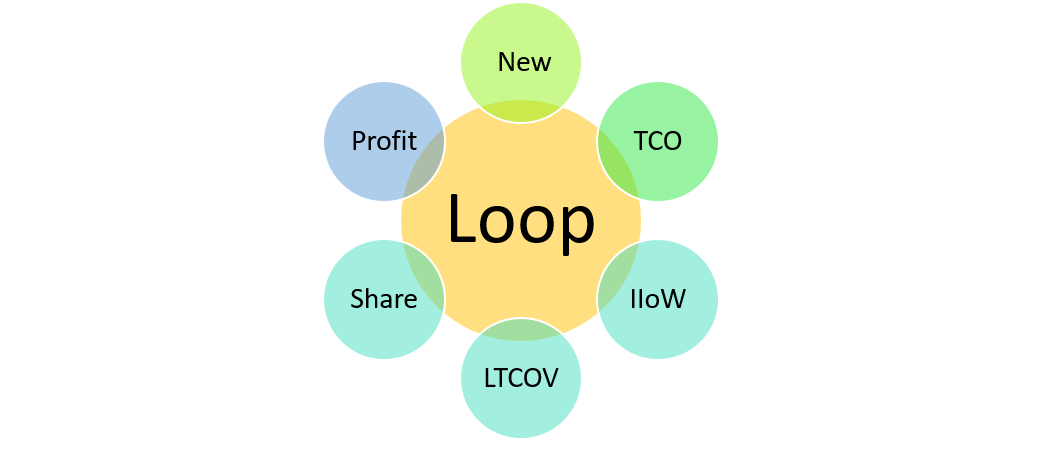 The TCO for the innovation can now be validated with IIoW. LTCOV convinces the customer to pay a higher price for the product. In turn the higher price results in higher profits. Funds are then available for more R&D This investment leads to new and better products and the cycle continues.
(1) Pumps: World Market published by the McIlvaine Company