A Free Joint Hydro & HI Webinar Offers Insights on When and Why Certified Pump Testing is Critical
Engineers, facility managers and plant maintenance personnel from across different industries can learn the benefits of a certified and quality pump performance testing facility by attending a free webinar on Certified Pump Testing: When and Why It's Critical.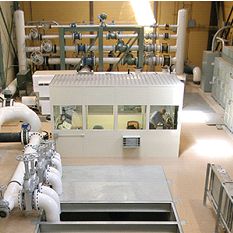 Hydraulic Institute
This training session is presented jointly by Hydro, Inc. and the Hydraulic Institute on November 15th at 1:00pm ET.
Perfect for companies looking to rebuild and test pumps, this webinar explains:
When to test pumps
Why performance testing must be conducted in a controlled environment to understand pump performance
Testing requirements and procedures for horizontal, vertical and submersible pumps
How analyzing test data can identify underlying issues that lead to recommendations for improved pump reliability and reduced energy costs
Importance of remaining compliant with Hydraulic Institute standards for more accurate performance results
Attendees will learn about pump performance curves for hydraulic design and how to validate mechanical performance like vibration, temperature and other critically important standards. By the end of the webinar, participants will gain a deeper understanding of why validating pump performance after rebuilds and before pump installation offers better assurance for maximum pump efficiency. Plus, you will better understand how to read, analyze and interpret any pump test report.
Bob Jennings, Corporate Trainer/Manager Energy Upgrades, Hydro, Inc., will serve as subject matter expert covering the requirements for correct pump testing, recording pump test results and preparing a pump test report.
Registered participants of the live webinar session will earn one Professional Development Hour (PDH) credit. To register, visit the Hydraulic Institute website.