2013 Chem Show to Offer Valuable Insights from New Endorsing Association
Process engineers, plant and production professionals attending the 2013 Chem Show in New York City this December 10-12th can learn valuable consulting tips courtesy of the Association of Consulting Chemists and Chemical Engineers (ACC&CE), a non-profit organization dedicated to advancing the practice of consulting for chemists and chemical engineers.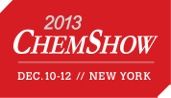 Chem Show
As a new Endorsing Association, ACC&CE will present a seminar entitled: Consulting Tips, Case Histories and More at the process industries' main event for process equipment and technology to be held at the Javits Center. The highly respected group of consultants will also staff a booth (#710) on the exhibit floor to meet with visitors.
ACC&CE joins several other notable industry organizations that are lending their support to the Show. Other organizations endorsing the Chem Show and encouraging the participation of thousands of their members include the American Institute of Chemical Engineers (AIChE), Measurement, Control & Automation Association (MCAA), Fluid Sealing Association (FSA) and the Institute of Clean Air Companies (ICAC).
"We are delighted to welcome ACC&CE as our newest endorsing association," said Clay Stevens, President of International Exposition Company, which produces and manages the Chem Show. "Their members have attended the Show for many years, so it is gratifying to have them join us as an Endorsing Association. Our endorsing associations represent a broad cross-section of the CPI marketplace, and we appreciate their recognition of the value of the Chem Show to their members around the world."
Founded in 1928, ACC&CE is an association of consultants who are engaged in consulting practices in fields closely allied to chemistry and chemical technology.