$2 Billion Market for Cross-flow Membranes and Equipment to Purify Drinking Water
Next year municipal drinking water plants around the world will spend just under $2 billion for cross-flow membrane equipment and systems. This is in addition to an expenditure of $3 billion to desalinate seawater. These are the conclusions reached in RO, UF, MF World Markets published by the McIlvaine Company.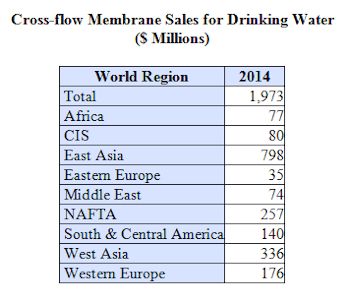 Cross-flow Membrane Sales for Drinking Water ($ Millions) (Image: McIlvaine)
Prior to 1990 most drinking water plants used sand filters to purify drinking water. However, since that time there has been a trend toward use of microfiltration and ultrafiltration membrane systems. The reason is that the cross-flow membranes can remove more of the disease causing organisms than can the sand filters.
The most efficient selection would be reverse osmosis (RO). However, the capital cost and energy consumption is considerably greater than ultrafiltration, so the use of RO is confined to situations where there is significant contamination of the water to be consumed.
East Asia is the largest market. It is also growing the fastest. The migration of the rural population to the cities has increased drinking water demand. Since the source water is likely to be more contaminated than in other regions, cross-flow membrane filtration with its higher efficiency is the best choice.