15 Coal-fired Plant Operators Will Purchase 50 Percent of the Pumps
Coal-fired plant operators will spend $1.5 billion for pumps each year for the next five years.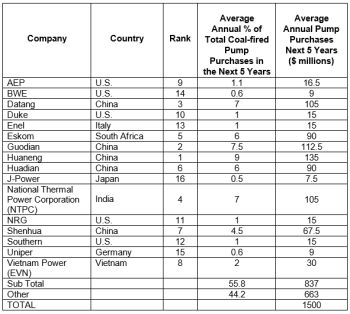 McIlvaine Company
The top five operators will purchase over 36 percent of the total. The top 15 companies will spend $825 million/yr. This is the latest analysis from the McIlvaine Company in Pumps World Market. The No. 4 purchaser NTPC and the No. 8 purchaser Vietnam Power will be purchasing mostly for new facilities. Those utilities in China and Africa will have a mix of purchases for new and existing facilities whereas the operators in the U.S. and Europe will be spending mostly on repairs and upgrades.
The biggest expenditures will be made for boiler feedwater, cooling, FGD, and wastewater. Chinese operators are investing in zero liquid discharge. This process requires pumps in the stages preliminary to evaporation. Due to the lack of water in arid Chinese areas the plants are selecting dry cooling which does not require pumps. Most new plants use ultra-supercritical technology. This requires more expensive pumps to develop the high pressures.
Power plants are accelerating the IIoT transformation. Remote monitoring and control will be common. Some pump companies are packaging pumps with software to optimize operation. This promises to substantially increase the revenue opportunity.